Karissa shared ... at the Market in Thiotte is a local bread making facility equipped with dough rollers (powered by loud and smoky! diesel generators), and an impressive wood fire oven. There were about 15-20 people working in this small brick building!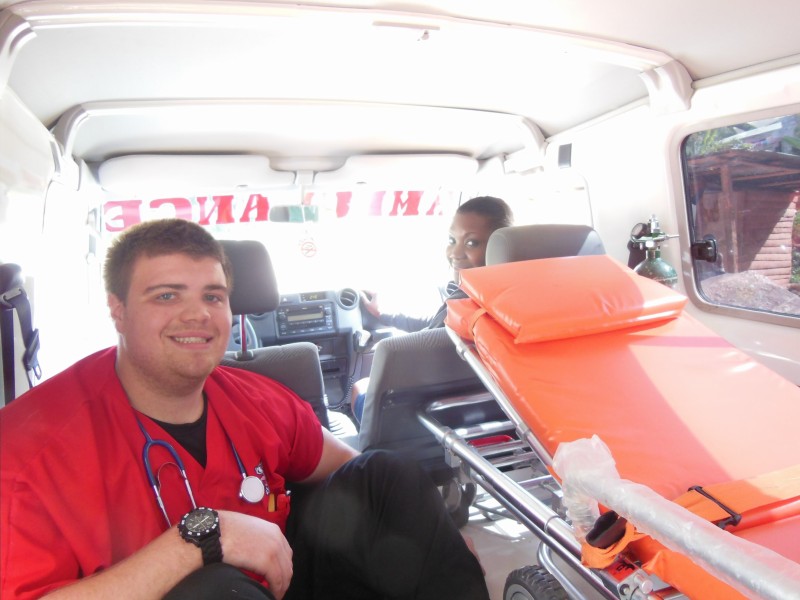 Zach shared ... Dr. Judson got a call,and was told that a man was sick. Dr. Bob Zemple (who took the picture) asked me if I wanted to go along, I said yes. The driver, Angie (the translator), Dr. Bob, and myself left to get the man. The drive in the ambulance took roughly 35 minutes to get to the man, due to the extreme road conditions - hills, bumps, potholes, people, and cattle on the road.

The overall feeling of the drive down there was very relaxed, until we got to the man. Dr. Bob and myself were led to the man who was swarmed by a group of locals. I got a blood pressure and pulse on the man, while Dr. Bob did his field assessment. We got the man loaded into the ambulance, and sped the whole way back to the clinic over the poor road conditions.
While in the ambulance Dr. Bob started to diagnose a possible hemorrhagic stroke. Dr. Bob and I had to hold the man down on the stretcher -1) there were no straps; 2) the roughness of the road and speed had the man bouncing around. The man actually threw up at one point because of all the trauma he was experiencing.

We got back to the hospital in roughly 20-25 minutes and from there we gave the man different meds to help ease the pain. Our patient unfortunately passed away around 3 AM, due to his stroke and deteriorating health. He was only 35 years old.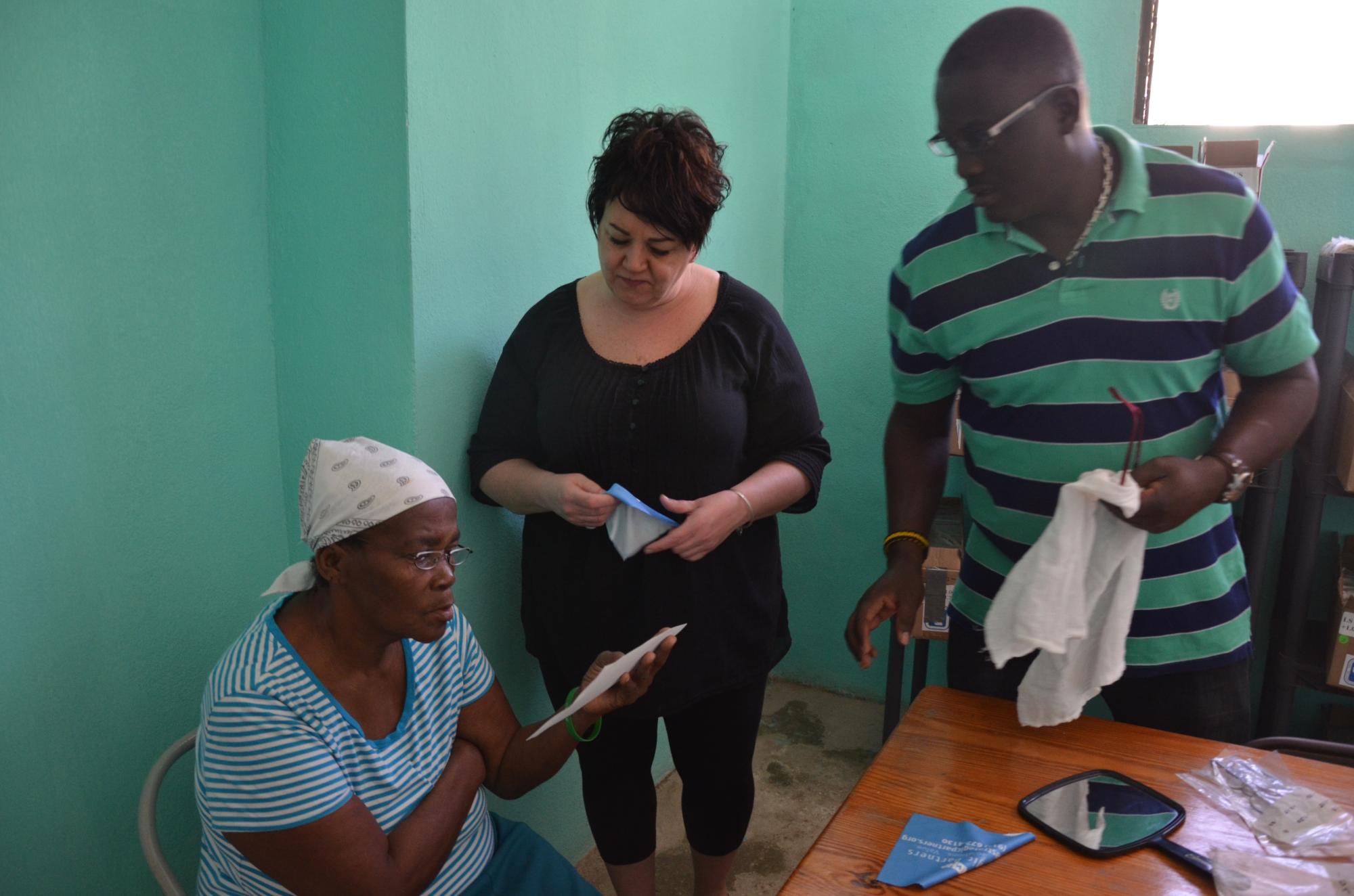 Jair shared ... Fleurima was such a inspiring experience. A lot of buttons were pushed in my mind..
When Sony came to me and explained to me her situation - I was sad - and flattered. First of all I had in my mind, what a nice guy this Sony fellow...
Fleurima talked to me the day after I spoke with Sony- her son was in front of her to guide her. She was completely blind. The white rock cataracts where dictating her lifestyle. A cage of darkness in a sunny Country.
She was really, really happy the day after surgery - my ego too :) But some people are more lucky then others.. especially what it happens in the back of the eyes.
She was thankful for HMMW, me and Sony. But the most important was (I thought) she had to thank herself. The way she was, the way she naturally inhaled life as a new chance in this world. That was the most inspiring - and I told her that.
Didn't take for granted our miraculous life.
Could I wish a better patient?!
Best regards,
Dr. Jair Nicolini (Denmark)
Sony shared ... Fleurima Gracieuse, is 62 years old, she is from Bombardodoplis that's about 7 hours northwest of Port au Prince. Bombardopolis is my mother's town. Fleurima is my godmother and a friend of the family.
In December, I went to visit Bombardopolis to bring food as a gift to the people there because it is a very poor area. When I went to visit Fleurima there to bring her a care package, I found that she was completely blind and in a bad situation. I had a conversation with her and asked her some questions like How long has she been blind? And why did she not go to see an eye doctor for her problem? And how can I help her? She told me that she had been completely blind for 2 years. She told me she was so depressed about her condition because she could not do her daily activities, or even walk. She said she did not go to a doctor because she did not have any money to do so.
Therefore, I decided to give her some money to come to Port au Prince (PAP) to see an eye doctor and also for a place to stay during her visit. Three days later after she arrived in PAP by bus, I picked her up at the bus station and drove her to see an eye doctor. He told her that the only way for her to see again would be to remove the cataracts in both of her eyes. He said this would cost $3000.00 and she was so sad to hear this. I did not have this money, but I knew that there was an HMMW eye trip coming to Haiti in January because I was translating for this mission. So I told her to stay in PAP until the mission arrived. I gave her money to take a tap tap (bus) to Thiotte and paid someone to accompany her on the trip to help her because of her blindness. When we arrived in Thiotte, we talked to Dr. Jair and he said that these cataracts were the worst cataracts he had seen in his life. He said that no matter what, he will remove the cataracts and she will be able to see afterwards.
Jair performed the surgery and she stayed in the clinic for 3 days. When they removed the bandages for the first time after the surgery, she started running around, dancing and singing, saying "Thank you Jesus!" over and over again. She kissed everybody at the hospital and Dr. Jair, and said "Thank you Doctor! God bless you! I will keep you in my prayers!"
I was so excited because I would not have been able to pay $3000 to help her, but because of Dr. Jair and HMMW, she can see again and take back control of her life. They saved her life and I am so grateful for that.
I spoke to her on the phone and she told me that she is doing very well and has had no problems. She can do everything she needs to do for her daily activities easily, and independently.
Thank you - Sony (Haiti)
Paul shared ... Once or twice during the clinics we had a chance to go to the market. These were part of a larger "donkey parking lot" People brought their stuff to and from the market on them. One anecdote about the clinic is that one time a patient had to stay overnight. It became more odd a project because one of the interpreters had to go out into the village and find a place to keep the donkey overnight and some hay for the donkey.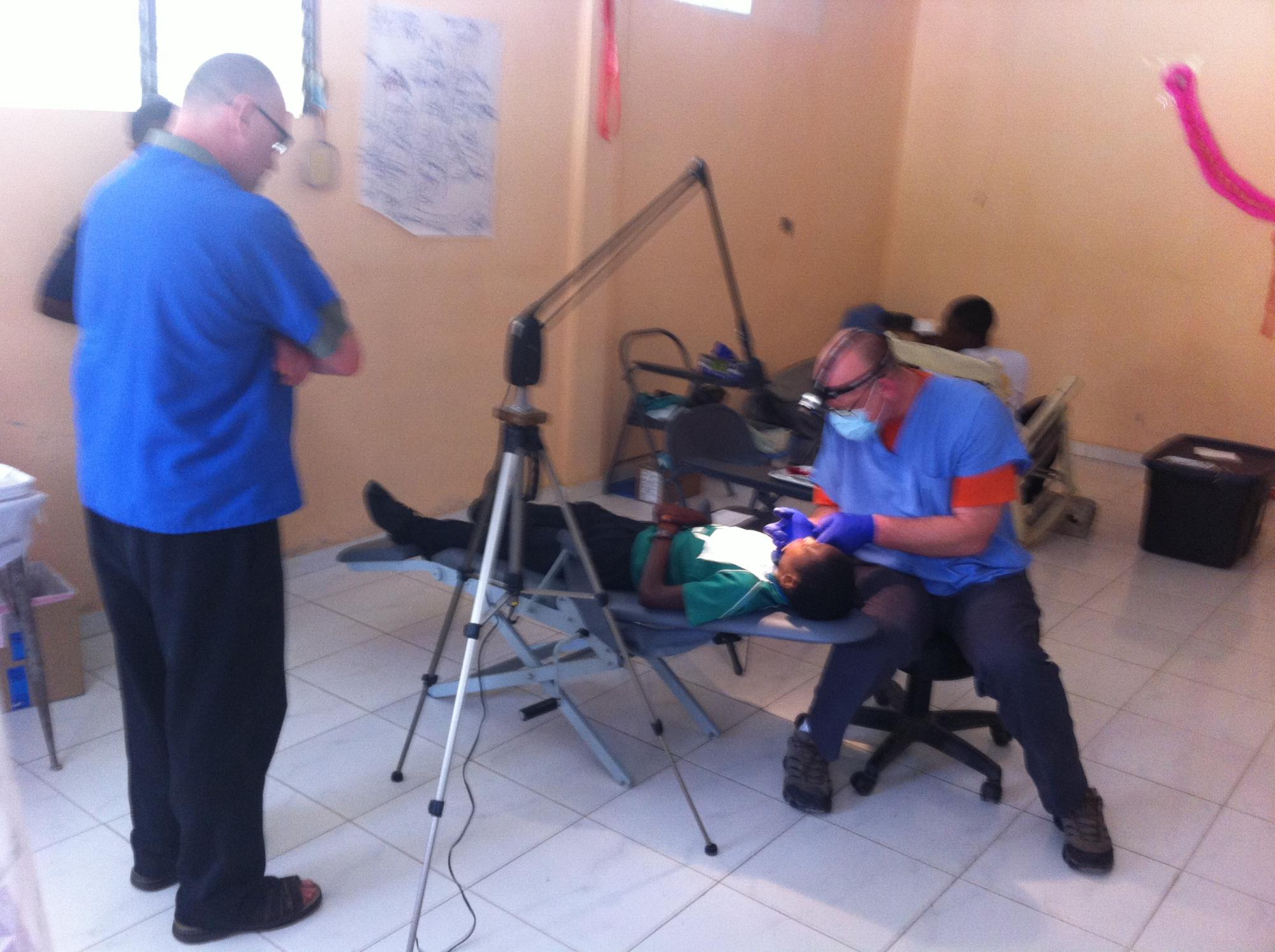 Marty shared ... Dr. Matt Pruhs working on a patient in the clinic, which is a converted classroom, with Dave Pruhs standing by to assist. Note: the other patient in the rocking chair over Matt's shoulder. The process is to anesthetize one patient in the rocking chair, and to do an extraction on the other patient while the anesthesia kicks in on the next patient.
(Editorial note: photo snapped by Marty Pruhs - yes, the three brothers volunteered together.)
We welcome stories from past and current volunteers.
Michael shared ... I was asked if I wanted to join our (HMMW) doc and nurse on a late night visit to a family in the Thoitte hospital ward. They were refugees in a sense; forced to leave a DR hospital where they were told that nothing could be done for their infant.
We put on headlamps and traveled down to the ward in silence. We walked down the dark hall and into a ward occupied only by that one family; it was totally quiet except for our footsteps on the tile floor. I entered the door and halted. The only illumination provided by two candles. The mother in bed with her baby and the father sitting beside her. It reminded me of so many Christmas plays celebrating the birth of Christ. But here there was no celebration. Here was a family in desperate need to get help for a sick child or for a quiet safe place to let him die.
In Thoitte death is real, immediate and always a part of everyday life. Haitians can't pretend that technology or money or clean bright hospitals will protect them. Haitians depend on God's mercy and groups like HMMW. I am always struck by a sense of privilege just to be a part of that. The gift is always mine.
– Michael Scott
(photo above is of Rickie Scott, RN - Michael's wife and HMMW volunteer partner)
Newsletter Trivia Answers
Q: What non-USA countries are the birthplaces of our most frequent volunteers?
A: Cuba, Brazil, Denmark, and Canada.

Q: In what 29 U.S. states (other than Wisconsin) do many HMMW volunteers and donors reside?
A: AZ, CA, CO, CT, FL, ID, IL, IN, KY, LA, MA, MD, MI, MN, MO, MT, NM, NV, NY, OH, OR, PA, SC, TX, UT, VA, VT, WA, and the District of Columbia